Purchasing or Refinancing a Home?
Use our free mortgage calculators to quickly estimate what your new home will cost
How is mortgage calculated? A mortgage calculator is a useful tool for determining how much you can really afford in a home. The home loan calculator determines what your monthly payments will be, factoring in the size of the mortgage, insurance, and maintenance fees. You will see what you can truly afford each month. You will be less inclined to purchase a property that is over your budget, avoiding potential financial difficulties down the road. A mortgage calculator allows you to evaluate different scenarios to help you determine what are your best financial options. If you want to make extra mortgage payments, you will see how much you can save in interest over the life of the mortgage. The more knowledge you have, the greater the likelihood you'll make the right mortgage choice.
What is a mortgage? How does a mortgage work? An online mortgage calculator is a valuable tool to help the shopper pick the right home loan. Getting a mortgage that a homeowner can comfortably manage means avoiding getting into financial difficulty.
Mortgage Payment Calculator
---
Extra yearly payments affect the repayment schedule of your loan but do so in a beneficial way. An extra yearly payment will allow you to save on interest payments and shave up to ten years off of your repayment term. Many mortgages calculators allow you to enter in extra yearly payments and show you just how much you can save by making such a payment. If you are interested in making an extra payment, it should either be factored into your agreement of repayment or discussed with your lender to ensure that there are no prepayment penalties for borrowers who pay off their loans early.
---
Most mortgages calculators work on the assumption that your interest rate is fixed and also that your payments are on time and equal. If your rate is adjustable, a mortgage calculator won't be able to give you an accurate breakdown of your amortization schedule, as it will change as your interest rate changes. Also, frequent delinquent payments can change the amortization of your loan and cause your schedule of repayment to differ from that provided by a mortgage calculator.
---
A mortgage calculator can help you understand the amortization schedule that you agree to when you close your loan. Amortization is the process of repaying your loan through monthly payments of principal and interest. A mortgages calculator gives you an estimated monthly payment as well as estimates of the interest that will accrue. Mortgage calculators can also be used to see the effects of extra yearly payments and changes in interest rates or the length of the repayment period.
Mortgage Calculator
Use our mortgage calculator to estimate your monthly mortgage payment. You can input a different home price, down payment, loan term, and interest rate to see how your monthly payment changes. A mortgage calculator gives you the ability to find the best home financing solution.
Mortgages
---
Shopping for mortgages is as important as shopping for your home. The difference between a good mortgage and a bad mortgage deal could run to many thousands of dollars over the life of a mortgage. There are different types of mortgages that you can pick from. They include fixed, variable-rate, and interest only. Your lifestyle greatly determines which home loan you select. To qualify for a good deal on mortgages, it helps immensely if you have a good credit rating. This indicates that you pay all your bills on time and you have manageable levels of debt. Mortgage lenders prefer to do business with people with good credit standings since they have a strong probability of making their payments. As a result, you can negotiate favorable mortgage borrowing terms.
Best Mortgage Rates
Use our national survey of lenders to find the right mortgage rate for you.
Mortgage Calculators
---
Mortgage calculators are designed to give mortgage shoppers possible answers to different scenarios. The purpose is for the home loan shopper to have enough information to choose the best mortgage solution. Making the right decision could save the mortgage borrower thousands of dollars over the life of the mortgage. Mortgage calculators help you determine how big of a mortgage you can afford to carry, the money you saved if you paid up for points and how much interest expense you can save by making extra mortgage payments. The situation to avoid for a homebuyer is to go over their budget and end up in financial difficulty. Getting pre-approved for a mortgage can help you stay within your budget.




Fixed-Rate Mortgages (FRM)
---
The interest rates of interest remain constant during the life of the loan.
Offered in terms of 10, 15, 20, or 30 years.
Payments are composed of the principal and interest (P & I) and parts of engagement. The P and I divide would not change during the life of the loan. The amounts of engagement would pay things like the insurance of owners and the taxes on land at the house. The amounts of engagement can change time according to the cost of these articles.
If your loan requires that you carry the personal mortgage insurance (PMI), these payments would be added to your quantity of monthly payment until this mortgage is not necessary anymore. It is normally when you acquire stockholders' equity of 20% in the house.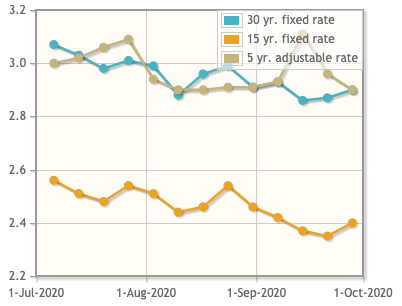 Adjustable-Rate Mortgages (ARM)
---
Loans moreover called variable-rate.
Beginnings outside with an interest rate of lower interest, and changes according to fluctuations' of the market. How much time it exchange depends on the limits on the loan. The most common limit of adjustment is once each year.
The arm has limits, or hats, on the number of points of percentage which it can assemble every year. It also has hats on how much it can go up during the life of the loan. This occurs according to the limits' of the loan which you choose. With the example, your mortgage starts at a rate of 4%. If you have an annual hat of 2 points, and hat of the life a length of 6 points, it is what can arrive at the rate of percentage of your loan. After one year your company of mortgage loan can increase your rate of two points, to 6%. After the second year, your company of mortgage loans can increase your rate of 2 points, to 8%. (total of A 4 points of a percent higher than the original limit of the loan.) After the third year, your company of mortgage loan can increase your rate of 2 points, to 10%. A total of 6 points of a percent higher than the original limits of the loan.) At this moment you had an increase of 6 points of percentage and can more make increase your interest rate of interest during the life of your loan. Naturally, these changes are attached to the index which your ARM is based above.
A convertible ARM makes it possible for you to have the interest rates of interest inferiors for the beginning of the loan, but the option to be converted into a fixed loan of rate when you choose. This requires usually fees of conversion like installation by your establishment of loan.
If you're looking for the newest updates, information, or simply the best deals, subscribe to our news settler and start receiving updates about our most beneficial mortgages.
Disclaimer: Calculation.mortgage strives to keep its information accurate and up to date. This information may be different than what you see when you visit a financial institution, service provider, or specific product's site. All financial products, shopping products, and services are presented without warranty. When evaluating offers, please review the financial institution's Terms and Conditions. Pre-qualified offers are not binding.